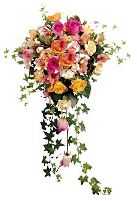 International Deliveries
America
Canada
UK

All India Florists send flower to India. Send fresh flower to India. Thinking of flower India, just remember All India Florist for India flower delivery at low price. We send flower to India and gift chocolate rose cake and sweet. Send flower to India with Testimonial of Quality Deliveries.

Send Flower India : Florist India
Order by Phone: Dial 91 989 706 4001
Customer Care: Dial 91-9-760000076


SOME MORE TESTIMONIALS

Namaskar Sunanda,

Thank you for delivering the roses on time. We are very satisfied with your service - our friend was very happy.

Best regards,

Uta & Thomas Loup

I liked ur website and service. I checked with my relative in Kanpur, India about the product. They said the cake was fresh and flowers were beautiful. So thanks for providing the good service.
Pooja Bajaj


Dear Sunanda,
Thank you for the confirmation.
I must say it has been a very efficient and professionally-handled experience in having my order executed by your company.
I would certainly like to use your website again and would also recommend it to others.
Best regards,
Vaneet

Kochi to Noida


Acknowledging your Good service.
Would come back.
With Best Regards,
Jeyam.
S.J.JeyamKumar
Dammam, Saudi Arabia to Bangalore

My mom called yesterday to let me know that she had received the beautiful flowers.
I just wanted to thank you for the wonderful service.
Thanks
Vineet
Vineet Srivastava
California, USA to Bhopal

Thanks. My friend called up and was delighted with the flowers and the cake, she told me was delicious. The gifts you delivered sure made me less guilty for not attending the wedding.
Sridevi
Sridevi Sunderarajan
UAE to Chennai

Just wanted to let you know that the flowers made it on time and they were highly appreciated.
Thank you for expediting the order,
Regards,
Amol
Amol Matharu
New Jersey, USA to Chandigarh

thanks a lot, i will contact you next time i need any thing delivered
in India...
Avtar
Avtar Singh
New York, USA to Chandigarh

It was a pleasure doing business with yall. You guyz were real prompt in delivering my order. I really appreciate your efforts. Keep it up!!!
Thanking You,
Sincerely,
Sharath
Sharath Kumar
Oklahoma, USA to Bangalore

Thank you , it was great to hear that the flowers were delivered on time, thats was just amazing , First of all i would thank you for doing a excellent job by placing the order in such short span of time , and even got to know that the flowers looked amazing , just taught Iíll send you an appreciation e-mail for the great job Allindiaflorist done.
i even told this to most of my friends, In fact my friend immdly even placed an small order from you'll by the name of sharath kumar to bangalore, like research says that the best way of doing marketing for advertising is "WORD OF MOUTH ", I guess Iíll shop with you'll here after .....thanks once again and good luck
Regards
S Feroz
Syed Feroz
Texas, USA to Bangalore

Thanks Sunanda.
the flowers were delivered today on time.
thanks for your service.
regards
Amit
Amit Chaudhary
Japan to Haldwani

I'd like to thank you very much again for your very good service. I really appreciate it.
I'll be glad to visit you again.
Many thanks and kind regards,
Endrit
Endrit Kazazi
USA to Ludhiana

Thanks,
I recvd my uncle's call saying that he's rcvd the flowers and they were good.
It will be my pleasure to place an order with you somewhere in future.
Regards,
Chandrima Budakoti
New Delhi to Rishikesh

Thanks for the flowers and good job done
It was a good pack of flowers
thanks
ajith
Ajith Bhaskaran Pillai
Abu Dhabi UAE to Ernakulam

Thanx once again Sunanda !
He loved the flowers.. Now I'm getting interested in having a look at your flower arrangements personally ! Every one told me that flowers were fresh and beautiful..
Thanx much !
Regards
Archana
Archana Gupta
Mumbai to Delhi

Thank you very much.. I'm impressed with your prompt replies... and the service is as good.
I have been shopping with Indiatimes mostly, but last 2 times their florists failed to deliver at all, so I was searching for a new florist, and came upon your website.
I look forward to shopping with you again. And I think you should advertise your website more in India, even now people mostly order on Indiatimes or Rediff, who are much worse as compared to your site,
when it comes to flowers atleast.
I would like to formally send my comments on your excellent service.
Can you tell me where can I send that !!!
Regards.
Ashrut
Ashrut Khatter
Mumbai to Agra
<<< More
PLEASE MAIL US YOUR COMMENTS IF YOU SO DESIRE
Send gift and flower to India in 3 hours from United States, US, United Kingdom, USA, UK, Canada, UAE, Europe, Asia, France, Germany, Japan, China, New Zealand or any other country.

Delhi

,

Mumbai

, Bombay,

Panchkula

,

Pune

,

Thrissur

,

Chennai,

Cochin,

Madras, Calcutta,

Kolkata

,

Dehradun

,

Gurgaon

, Saharanpur,

Bhopal

,

Meerut

,

Nagpur

,

Noida

,

Gwalior

,

Jaipur

,

Kanpur

,

Kottayam

,

Lucknow

,

Bangalore

,

Hyderabad

,

Ahmedabad

, Chandigarh, Ludhiana, Jalandhar, Baroda, Coimbatore, Trivandrum, Cochin, Roorkee,

Varanasi

and other Indian cities.